Manufacturing Engineer- Assembly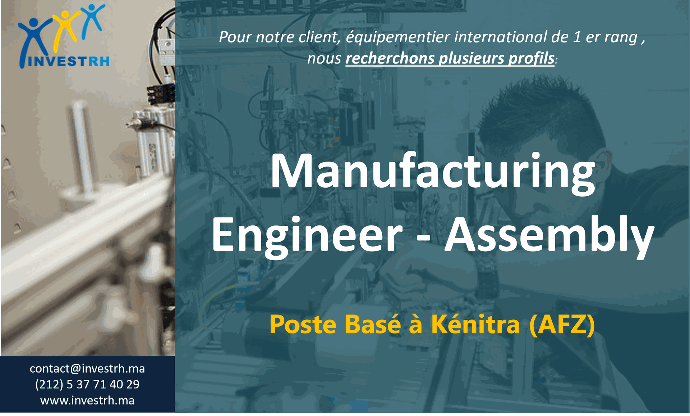 1.    General Purpose of the Position:
·       Ensure safe production processes and machines, to comply with projects timing, with required capacity and capability.
·       Production support for continuous improvement and cost reduction.
2.    Basic duties and references:
·       Product design analysis to determine the best production process, to comply with Bill of process
·       Specify, lead and control equipment design and qualification.
·       Maintain proper documentation updates for process / process sheets / PFMEA / others in PLM system.
·       Ensure delivery for equipment with required capacity and capability
·       Maintain quality systems requirements of IATF, ISO14000, PN18000, in defined area of responsibility
·       Support plant in area of Health and Safety.
·       Met First Time Quality and scrap goals in area of responsibility.
·       Support for achievement of Operational Availability and quick changeover on machines.
·       Participation in interdisciplinary workshops
·       Support JFK implementation, EP on assembly cells, Traceability, Material handling development.  
·       Provide technical support / trainings for production / maintenance / quality teams.
·       Project participation, customer support, CPI
·       Interface with central process engineering, Lead MEs, supplier for process development and production. 
·       Special assignments according to needs
·       Creating and managing Control Plan according to the APQP schedule with connection to PFMEA and flow chart.
You have the authority and the obligation to stop production in case of any nonconformity
3.    Required qualifications:
a.    Education level
·       Engineer degree preferred in mechanical, electrical or industrial engineering
b.     Experience
·       Solid experience in implementing, optimizing and supervising production processes related to mechanical processing
c.      Skills
·       Fluent English
·       Knowledge of automotive industry
·       PC use capability / MS Office / AutoCAD as base minimum.
·       Teamwork approach 
·       Excellent timekeeping & work planning ability
·       Effective Leadership skills
·       Results oriented, analytical, strong work ethic
·       High communication and team working skills
·       Good analytical skills
·       Ability to work under time pressure
d.     Training (based on the need)
·       CPI activities (APQP) according to CPI process map.
·       FMEA, MSA, SPC, PPAP basics.
·       PDCA, 5Why, FTA, Ishikawa.
·       GD&T
·       Knowledge based on IATF 16949 and CSR.
4.     Corporate competencies:
·       Empowered to Act
·       Constructive Communication
·       Personal Growth
·       Passion for Perfect Quality
·       Clear and Timely Decisions
·       Integrity & Accountability
·       Customer Focus
·       Relentless Innovation
·       Collaborative Relationships